Investing in the look, security and energy efficiency of your doors can benefit you over many years.
For a free no obligation design consultation
call
01279 883292
Click the buttons below or email us today
Composite, French, Sliding or Bi-folding we have a door solution for you
The doors you choose for your property set the tone for your whole home.
Whether you are looking for a Composite door, french door, sliding patio door or a bi-fold door we have a range of stylish options, our doors are built to last and combine sturdy construction with a superb finish.
Contemporary or traditional in style Silvertree have the answer.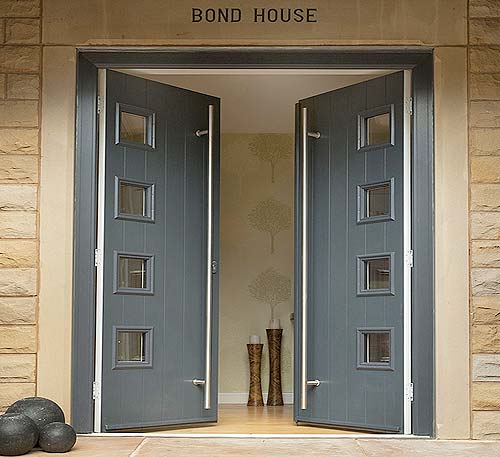 Bespoke Composite Doors
Our composites provide everything you would expect from a classic composite door, in both appearance and features. This means you can expect superb thermal performance, incredible levels of security, and a customisable appearance that blends in with every kind of home .
Our Composite doors feature a rigid polymer subframe, a high-density CFC-free polyurethane foam core, impact resistant GRP skin, a 5-point locking system, and anti-snap, bump, pick and drill cylinder fitted with a guard for ultimate security. The locks 5 hook configuration provides the best in home security systems.
Our doors are one of the highest spec composite doors on the market. With 5 point locking and Secured by Design status, it's also one of the most secure. The XtremeDoor has PAS24 2016 Enhanced Security accreditation, so you can rest assured that your home is safe.
This premium composite door also offers the end user extreme levels of thermal efficiency and weatherproofing. In fact, our composite doors are 19% more thermally efficient than a solid timber core composite.
Composite doors are much more thermally efficient than either timber or PVCu. They are manufactured to the highest quality standards, making them more thermally efficient by design.
The warm foam core allows the door to have a significantly better 'U' value than traditional timber, PVCu skinned timber, and steel doors. Our entire range meets the requirements of current Building Regulations.
There are various upgrades to glass options which increase the thermal performance of the door. Our composite doors are sure to keep your home warmer and help to reduce your energy bills.
Some Features
5 Hook lock
Stainless steel hardware guaranteed not to corrode
Anti-bump / snap / drill / pick cylinders
3 x 3 way fully adjustable hinge
Triple sealed outerframe
U-values as low as 0.8W/m2K
UV stable GRP skin
15 Colour options
So why not design your new door today, click the button below to get started.
You're one click away from designing your New Composite Door
Bi-folding doors tailored around you.
At Silvertree we pride ourselves on providing the best, most relevant and up to date designs and products to give you exactly the look and functionality that you need.
An increasingly popular alternative to more traditional French Doors and patio doors, are the multi-fold door systems and can offer so much more – improving open plan living and bringing a modern contemporary feel to almost any home.
The multi-fold door is a sophisticated door system which meets the demands of almost any property, enabling you to choose the number of panes to suit your needs.
All profiles feature a polyamide thermal break that enhances the thermal performance of the profile and improves the overall U-Value. Profiles feature EPDM high quality gaskets and weather brushes to aid weather resistance. Our door complies with the requirements of Building Regulations Document L 2010. Security is assured by multi-point lock mechanisms on main opening sashes, and shoot-bolt locking on floating mullions.
Dependent upon the size of the opening you can have up to a maximum number of 7 panes, with the master door being located on the right or left side providing you with complete flexibility. Choose to fold the sashes internally or externally, place the opening at the side so the sashes all fold one way, at one end, to create a single entrance door for easy access, or in the middle to give the option of a double door.
Our doors are available in a wide range of standard or non-standard colours.
Why not see what we can do for you 
Sliding and French Doors
At Silvertree we pride ourselves on providing the best, most relevant and up to date designs and products to give you exactly the look and functionality that you need.
Our sliding door system is the latest innovation in our popular series of elegant sliding doors. An evolution of the original Slide system using continental style construction, Slide 2000 features the signature slim line profiles and minimal sightlines associated with the range, coupled with modern thermal break technology that provides you with both enhanced thermal performance and the option of dual colour profiles in a wide choice of colour finishes.
We use a selection of mitred outer frames featuring a dual or triple track option allowing the choice of 2, 3 or 4 pane doors. Two pane doors can have either dual sliding sashes or a fixed pane & one sliding opening sash configuration. If fitted with a triple track threshold all three sliding sashes can be configured to slide to one side which gives a 2⁄3 opening aperture. The sliding door sets are fitted with a multi-point locking, one piece lock keep that offers enhanced security.
Our sliding  doors will accept 24mm, 28mm or 32mm double or triple glazed sealed units. Glass units are secured using a wrap-around gasket with the sash profiles assembled around the sealed unit.
Slide Plus offers the same contemporary styling and robust performance associated with the system whilst delivering superior thermal performance.
This adaptable system is suitable for entrances where large opening apertures are required, as dynamic residential sliding doors that maximise light and give stunning unimpeded views. Slide Plus profiles have been designed to improve both strength and weather resistance. All main sections feature an extended polyamide thermal break that allows Slide Plus to achieve a U Value of 1.6 W/m²K when installed with a suitable sealed unit.
Our Sliding doors are available in both single and dual colour in wide choice of standard and non-standard finishes including the Sensations range of textured colours.
Our French doors are manufactured to the same exacting standards and profile of our PVCu windows and carry the secure by design accreditation.
Why not see what we can do for you 
MEET THE TEAM
We have some of the best and innovative consultants that can really make a difference to your home.
Visit Our Showroom
Silvertree House,
5 Hoblongs Ind Estate
Dunmow
Essex,
CM6 1JA
Tel: 01279 883292